Upcoming Events
PRESS for Barbara L. Baer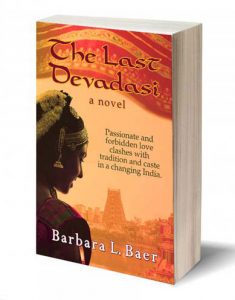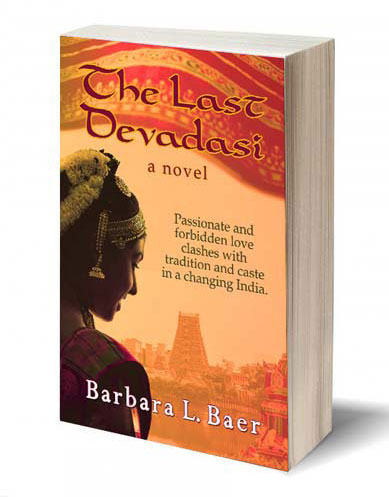 Please join us for a book launch featuring local author Barbara Baer's new novel The Last Devadasi.
The event will include selected readings, Indian dance troupe performance, author Q & A, book sales and signing. Exotic refreshments served; no charge to attend.
"Readers seeking a story based in India but filled with flavors of past and present will find The Last Devadasi a powerful read that draws important, thought-provoking connections between spirituality, relationships between men and women, and the kinds of institutions that keep old beliefs alive; sometimes beyond their relevance to contemporary experience."
—Diane Donovan, Senior Reviewer, Midwest Book Review
Barbara L. Baer received her BA and MA at Stanford University before going to South India to teach and study dance. She has reviewed classical and contemporary dance for newspapers and periodicals in America and France. Credits include fiction in Redbook and reportage for The Nation. She lives in Sonoma County, California, where she and her husband, Michael, who is also a writer, cultivate pomegranates and olives.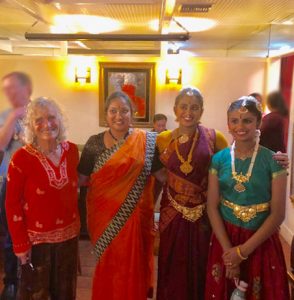 A large crowd gathered at the intimate La Bodega Restaurant and Wine Bar in Sebastopol to celebrate the release of Barbaras's latest book – "The Last Devadasi". The guests were treated to a performance of Indian dancers trained in the style of dance that the heroine of the book, Kamala Kumari, excelled in.
A dazzling visual experience!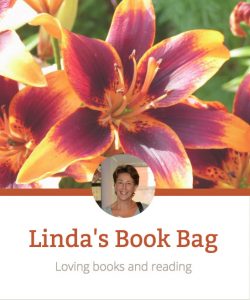 Having visited India earlier in the year, I've become slightly obsessed by that wonderful country so it gives me enormous pleasure to welcome back Barbara L. Baer to Linda's Book Bag today with a fabulous guest post all about how memory and invention have created her Indian setting in celebration of her latest book The Last Devadasi. Barbara previously stayed in with me to tell me about another of her books, The Ballet Lover, in a post that you can read here.
Published by Open Books, The Last Devadasi is available for purchase on your local Amazon site and directly from the publisher.

What led you to write The Last Devadasi?
"When I studied in Madras with the greatest South Indian dancer, Balasaraswati,  I learned from her family of the discrimination she had endured because of being born into the devadasi caste. The contradiction that the most venerated dancer, Balasaraswati, had experienced, like other women for a millennia, was that she was dedicated as a girl to a temple deity, determining that she would never marry but only serve as a sexual object to upper caste men. As much as the dance, I learned the determination of caste, and that stayed with me long after I left India."
– Barbara L. Baer

– "With its turbulent passions amid social upheavals, The Last Devadasi takes readers on a sensual feast in the 1970s palm-shaded trading city of Madras."
"Kamala Kumari is more than a Gemini Studio starlet: she's a classical dancer trained in the age-old line of Devadasis, a caste set in place a thousand years ago when girls were first dedicated in south Indian temples to serve the gods and men"
"From the promise of art and devotion, the sacred dancers fell into the hands of priests who both exalted and betrayed them"
Barbara L. Baer Interview

Barbara L. Baer featured in The Press Democrat


The ballerina Natalia Makarova would claim that Rudolf Nureyev purposely held back and let her fall, a breach of trust between dancers. Relations between the pair were icy for 12 years until a performance at New York's Metropolitan Opera House in 1983 seemed to lead to a thaw.
Forestville writer Barbara Baer takes on the lingering question in a new novella, "The Ballet Lover," (Open Books; $15.95) set within the insular world of ballet at its highest levels back in the early 1970s. Baer spins the story around a young ballet critic and writer, Geneva — loosely based on herself — who witnesses the incident, and Nureyev's arrogant failure to even help his partner to her feet. Geneva becomes determined to write about the incident, but runs into opposition from an editor who doesn't want to ruffle feathers.
Read the interview between author Barbara L. Baer and Press Democrat reporter Meg Mcconahey – Nov 12, 2017
Barbara L. Baer featured in Sonoma West Times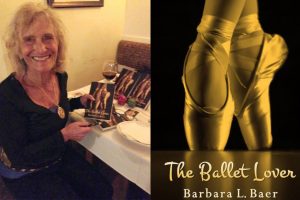 Occcidental Center for the Arts presents Barbara Baer, author of the new novel, The Ballet Lover. Baer, who lives in Forestville, will host discussion on Sunday, Nov. 19 at 3 p.m. of her semi-fictionalized work, which focuses on the controversial moment that Baer witnessed as a reporter, when Rudolf Nureyev failed to catch his partner Natalia Makarova at a Paris performance and allowed her to crash on stage.
The original article incorrectly stated that this book is self-published. It is actually published by Open Books.